A Simple, Step-by-Step Guide to Building A House in the Philippines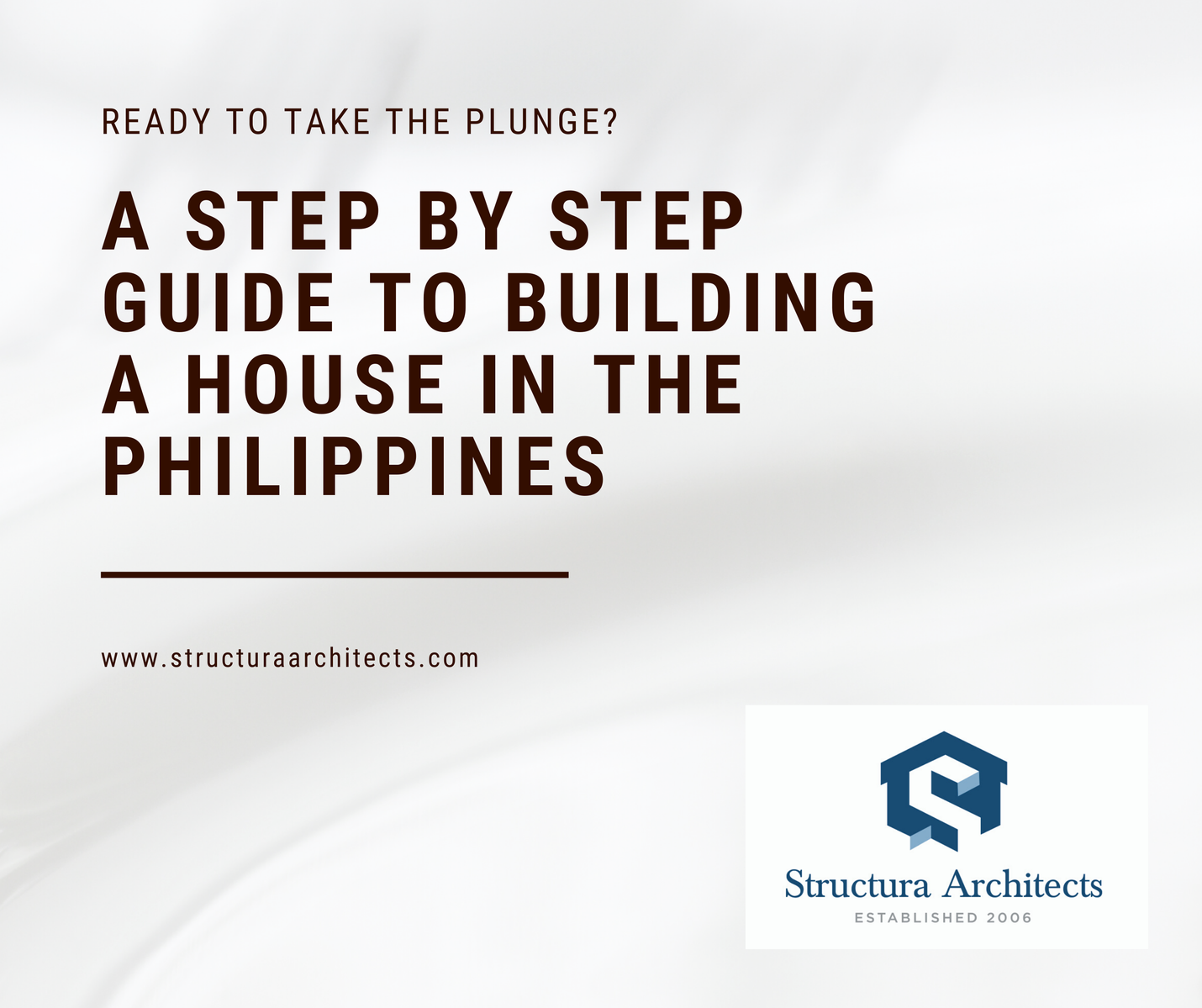 1. PREPARE DOCUMENTS
When planning to build a new house on a vacant property, make sure to have on-hand a copy of the TCT (title) or Lot Plan. If there's no available lot plan, you may engage the services of a Geodetic Engineer to have the lot surveyed and measured. The Geodetic Engineer will also determine the slope of the terrain, which is an important consideration especially for sloping sites. Fees of Geodetic Engineers start at around Php10,000.
It also ideal to have a Soil Bearing Test conducted, as the Structural Engineer will be needing this for the structural design of your home. Depending on size of lot, soil tests cost around 30,000 per hole.
2. HIRE AN ARCHITECT
Deciding on which architect to hire may seem like a daunting task. If you are not able to get referrals from family or friends, the best way is to search for one yourself through looking at portfolios and published work.
Narrow down your selection to two or three architects whose work you find interesting, and get in touch with them to ask about previous work, past clients, and their design process. Ask questions concerning budget, timeline, and your space requirements. Look for honest, practical answers. Ask to speak to a couple of previous clients.
Be wary about referrals from strangers, as these may merely be the result of "referral fees" and not of satisfactory service. The best architects welcome clients into their place of work in the spirit of collaboration and transparency, and so it is important that you know where the architect's physical office is located. Pay a visit if necessary, and see if you're a good fit. Remember, you will be working with him/her for at least a year (design + construction period). S/he has to be someone you find it easy to communicate with.
The architect will only be able to work on design studies for your home once an official agreement/contract is finalised. It is ideal to take note of the pointers stated above before signing this agreement, to make sure that you are engaging the services of an experienced, competent, and personable professional. Once your architect is hired, collaborate with him/her, sit back, trust that you've made the right choice, and let him/her do what s/he does best.
The Architect's fee is 10% of the total project cost, as mandated by the PH Architecture Act (RA 9266).
3. ALLIED DESIGN PROFESSIONALS
The Architect typically has in his/her team all the engineers needed for the design of your home. The Architect's fee includes fees for the Structural Engineer, Sanitary Engineer, Mechanical Engineer, Electrical Engineer, and Electronics & Communications Engineer.
All five engineers will be preparing the blueprints, forms, bill of materials, specifications, and analyses needed for bidding and for submission to the City Hall when applying for a building permit.
4. COST OUT THE PROJECT
The Architect will provide you with an initial Bill Of Materials, for a budgetary overview of the project.
When all design drawings are ready, the Architect, with your authority, will look for contractors interested to bid on the construction of your home. S/he will help you vet contractors, and evaluate the completeness and correctness of bids. Your Architect will help you negotiate and decide on which contractor to award the project to.
If you hired your architect on a design-build arrangement, s/he will submit a final BOM based on all final working drawings. Costs can be verified by making random checks on unit costs vs prevailing industry rates.
5. AWARD THE PROJECT & CHECK CONSTRUCTION
After the Architect helps you award the project to the winning contractor, s/he will help you identify inspection milestones for construction. Note that the Contractor is responsible for Building Permit application, unless otherwise stated in your agreement with him.
Communicate with your architect so that s/he can assist you when you inspect the construction site, and help you ensure that the design is carried out correctly. Your architects and engineers will inspect the site at certain milestones, to confirm quality of work and design compliance.
Additionally, your architect will help approve all materials to be used by the contractor for the project.
6. ENSURE THAT THE CONTRACTOR IS PAID CORRECTLY & ON TIME
Payment delays cause delays in material delivery, and may limit manpower allotment. These often result in unnecessary extension of construction time. Your architect will help you evaluate the contractor's payment requests vs work completed on-site. S/he should be able to give advise and offer solutions should payment disputes arise between you and the contractor.
7. PUNCH-LIST WORK & GET READY TO MOVE IN
Together with your architect, conduct a final inspection of the contractor's work. Any portion of the house that needs touch-ups or repair should be communicated to the contractor. The Architect will help determine the amount of time necessary to have these items corrected.
Prior to releasing final payment to the contractor, ensure that said contractor has handed over the Occupancy Permit to you. You will not be allowed to move in to your new home without an Occupancy Permit. Ask your contractor for a copy of the complete As-Built Plans. These would come in handy in case the need to renovate arises in the future.
8. ENJOY YOUR NEW HOME!
Congratulations on your new home!
Trust that because you followed the right design and construction process, your home will be there to stand the test of time, and serve your needs for a long, long time.